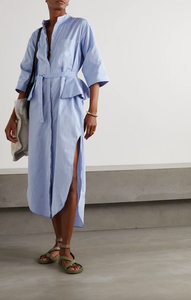 Florican Shirt Dress Pale Blue
The Florican Shirt Dress is composed of 100% remnant cotton and features an elastic back waist cuff and side pockets. It comes with a detachable peplum frill band (buttoned) that can be worn on both the shoulder, back and/or tied at the waist. 

Designed and crafted in Australia.

Fabric: 100% cotton

Available in XS (size 6 - 8, length 77cm from waist to hem) and One Size (8 - 14, length 82cm from waist to hem